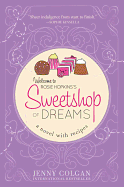 Jenny Colgan (Meet Me at the Cupcake Café, The Loveliest Chocolate Shop in Paris) has a knack for creating likable, ordinary heroines. Rosie Hopkins, a nursing assistant in London, has a nice--albeit tiny--flat with Gerard, her slightly boring boyfriend of seven years. Mostly content with her lot, Rosie is caught off guard by a phone call from her mother advising a change of pace. Her mum has the perfect opportunity in mind: her great-aunt Lillian needs help recovering from surgery.
Reluctantly, Rosie sets out for tiny Lipton, hoping to be gone from Gerard and her job for only a few weeks. But to her surprise, Rosie is enchanted: by her aunt, by the little village and by the irresistible sweetshop that Lillian has run for decades. And soon, several very different men are vying for Rosie's attention, forcing her to rethink her uneventful relationship with Gerard. Meanwhile, Rosie's presence causes Lillian to reminisce about her own star-crossed love story.
The chapters of Sweetshop of Dreams alternate between Rosie's present and Lillian's past, some 60 years ago. Each one starts with a paragraph or two from a candy cookbook Lillian once wrote. In these excerpts, Lillian shares recipes, reflects fondly on old-fashioned sweets and bemoans the modern prevalence of chewing gum. Thanks to the confectionery theme linking the romances, it is perhaps too cliché to call Sweetshop of Dreams a sweet story, but it is indeed a charming little tale of love and family.
I preferred both Cupcake Cafe and Loveliest Chocolate Shop to this one; but it was still a fun little read on a rainy afternoon.
Rating: 3 out of 5
Should I recommend this to my grandma? If your grandma likes romances with a steamy moment or two...
I originally wrote most of this review for Shelf Awareness.