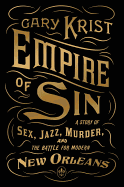 With the same surety he brought to his succinct retelling of the fall and subsequent rise of modern Chicago in City of Scoundrels, Gary Krist details the fascinating history of another American city. Empire of Sin covers a 30-year span of New Orleans history, from 1890 to 1920.
New Orleans, with its French-Spanish-Creole roots, was always markedly different from the rest of the American South, especially with regard to its attitudes about morality and race. But the city's reputation meant that it wasn't attracting investors, so businessmen decided to enact both racial and geographic segregation. All brothels, saloons and dance halls were pushed into an area known as Storyville (with a separate section for "Black Storyville") and outlawed elsewhere. For more than a decade, the vice trade flourished, giving rise to wealthy madams like Josie Arlington and producing some of jazz music's early greats, Buddy Bolden and Louis Armstrong among them.
But soon teetotalers and ministers, appalled at the flagrant debauchery and increasing crime of Storyville, decided that New Orleans needed an even bigger makeover and began pushing legislation that would cement Jim Crow laws, eliminate prostitution and drastically cut back on jazz music and drinking. Naturally, the denizens of Storyville fought back, and the battle for New Orleans began.
Gary Krist excellently summarizes a momentous era in a complicated city. Black-and-white photos of many of the main characters add to the narrative's historical appeal. Indeed, "characters" is apt, since Empire of Sin reads almost like fiction as musicians, criminals, prostitutes and businessmen mix and mingle on the streets of old New Orleans.
I think Empire of Sin or City of Scoundrels would make a great Christmas gift for the nonfiction readers in your life. I've never had a particular desire to go to New Orleans, but Empire of Sin might have changed my mind! It would be fascinating to walk the areas that used to be Storyville.

Have you ever been to New Orleans?
I originally wrote this review (well, almost all of it) for Shelf Awareness.