I know that I just posted about Thanksgiving books earlier this week (but that's just because I didn't get my act together enough to finish that post last week like I'd originally planned!).
But you still have about 10 days to prep an advent option, even if you weren't planning to do one.
I thought I'd share our two favorite advent choices around here. The last two years we did BOTH of them each time, and it was a little much. So I think this year we're just going to go with Truth in the Tinsel.
It offers a daily Bible reading, and a craft to accompany it, which walks through the story of Jesus's birth, a snippet every day until Christmas day. Some of the craft ideas are so adorable! We've had a ton of fun with it the last few years.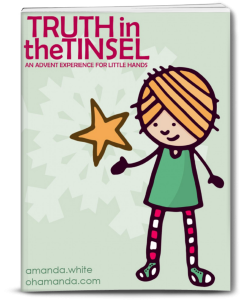 Two years ago I made our other advent calendar pretty organized. I wrapped up all of our Christmas movies and books, plus a couple of small craft items (like stickers), and let Eleanor open one each day, leading up till Christmas. I specifically put movies on days we had to have a babysitter, and stickers on days we'd be in the car a long time, etc. We never buy a ton of gifts for actual Christmas day, so it was fun for her to have something to open each day.
Last year, I didn't put as much thought into it. Mostly because Juliet was 6 weeks old, and I was just happy to actually get things wrapped. I randomly wrapped up all of our books and movies again, and let Eleanor open one each day. Although we also hinged opening gifts on daily good behavior, so by Christmas day we had 3 or 4 unopened presents, ha.

The funny thing is, I had convinced myself that I wasn't going to wrap everything this year, I was just going to set out a basket of books and movies... but now that I'm writing this, I think I am going to go wrap everything. It just makes it so much more festive! (And if you don't have enough Christmas books to wrap one for each day, I know people who wrap up library books. You'll just have to make sure you don't end up with late fees!)
Next week I'll share a full round-up of our favorite Christmas books, but some of our favorites are: The Jolly Christmas Postman
,
The Story of Christmas
,
Merry Christmas, Curious George
and B Is for Bethlehem: A Christmas Alphabet Board Book
.
Share YOUR favorite Christmas books in the comments, and I'll include them in next week's post!
This post contains affiliate links!