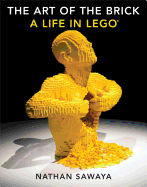 Nathan Sawaya had followed a fairly traditional life path until the plastic bricks he loved as a child enticed him to leave his career as a lawyer and become an artist.
The Art of the Brick: A Life in Lego
is Sawaya's memoir of this transition, accompanied by rich photographs of some his more famous creations. He has sculpted well-known people (Conan O'Brien), iconic images (Mt. Rushmore, the flag raising at Iwo Jima), and deeply personal faces and buildings that marked pivotal moments for him.
For those unable to visit one of Sawaya's extraordinary exhibits,
The Art of the Brick
is the next best thing, showcasing the tiny details and vivid colors of his sculptures. Hundreds of photos of Sawaya at work and of his art in partial and final stages bring his anecdotes to life. A fun conversation-starter and ideal for anyone into art or Legos, this is a dazzling full-color showcase of an unusual art form.
It isn't meant to be a kids' book; more of a coffee table memoir, but Eleanor was mesmerized by this one! She literally sat and read it for 30 whole minutes. Which in four-year-old-years is like 5 days or something. Noel ended up flipping through most of it too, and we aren't even really big Lego people. But Sawaya's artwork is spectacular. So if you ARE a big Lego person, I think you'll probably love it.
I originally wrote most of this review for Shelf Awareness. If you want to buy the book, you can use my link
, and I'll earn a few cents, thanks!