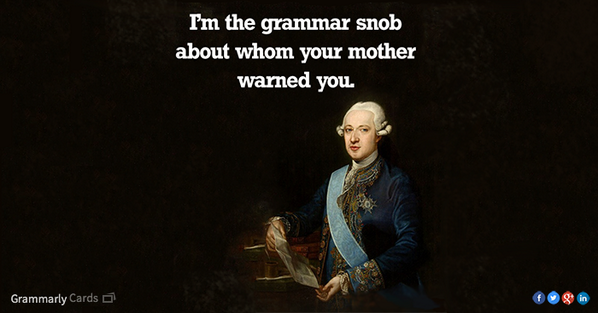 Liking Grammarly on Facebook means that my news feed is now full of awesomeness like the above picture.

I'm fascinated by this article about how speaking a second language can change your brain.
This podcast episode is making me think hard about some of the tech choices in my life, especially with regard to the kids.
Daily French practice on DuoLingo is making me feel smarter. (I think you can connect with people you know? I'm JessAHow if you want to try to find me.)
I'm officially 23 books ahead of schedule on my 2015 reading challenge, ha!
We broke out the wading pool today, because it's practically summer here.
Don't forget, the giveaway is still open!
I thought Fuck You, Clean Reader: Authorial Consent Matters was funny and very profane, and pretty accurate. (I almost edited that to F*** You... but since the whole article is about the use of profanity in literature, I feel like I can't censor it!)
And leaving you with the awesomeness of this video where Tom Hanks reenacts all of his movies in less than 7 minutes. If you haven't seen it yet, go watch it now!
(Update: in the comments Missy G pointed out that I linked to the wrong article for the F--- You one, it's fixed now! Thanks Missy.)