Juliet's bookshelves are always a mess. But I don't really mind actually, because it makes me pretty happy when I walk in and find her turning pages and "reading" to herself. Right now her favorite is to find pictures of cows and moo at them.
I can't wait to see your bookshelves too. Don't forget to use #31bookpics on Twitter and Instagram!
Not sure what I'm talking about? Or want to link-up your own posts on Friday? Here's my post explaining all the details of my 31 Days of Book Pics Project.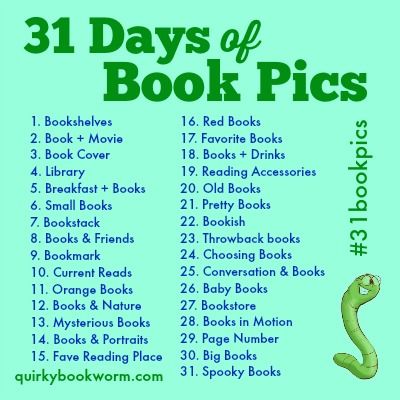 I'll update this post every day with the new links, so that they're all in one place together by the end of the month. Who's joining in?!
31 Days of Book Pics
Bookshelves
Book + Movie
Book Cover (link-up)
Library
Breakfast + Books
Small Books
Bookstack
Books & Friends
Bookmark
Current Reads (link-up)
Orange Books
Books & Nature
Mysterious Books
Books & Portraits
Favorite Reading Place
Red Books
Favorite Books (link-up)
Books + Drinks
Reading Accessories
Old Books
Pretty Books
Bookish
Throwback Books
Choosing Books (link-up)
Conversation & Books
Baby Books
Bookstore
Books in Motion
Page Number
Big Books
Spooky Books (link-up)