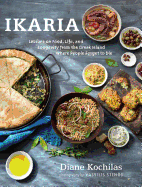 Made famous in recent years by its abundance of healthy, very old people (a staggering 13% of the population is over 80 and almost no one has dementia), the small Greek island of Ikaria has been touted as a sort of Shangri-La, a place where people age with grace. Diane Kochilas grew up in an Ikarian enclave in Queens, N.Y., and spent many summers back in Ikaria with her grandparents and extended cousins. Ikaria: Lessons on Food, Life, and Longevity from the Greek Island Where People Forget to Die is a paean to the simple Ikarian lifestyle, which includes a blatant disregard of clocks, little stress and endless hours eating fresh, organic food in the company of friends and family.
Eating what Kochilas calls "the Mediterranean Diet of half a century ago," Ikarians consume lots of wild greens, vegetables, nuts, olives, goat milk, bread and potatoes, with little meat, other dairy or processed food. The recipes in Ikaria, which reflect these dietary habits, include skordalia (a dip made out of mashed bread and garlic, often enjoyed with fried pumpkin wedges), an amaranth-and-zucchini cooked salad, a leek-and-lupine bean salad and a few varieties of goat stew.
Bursting with vegetarian-friendly recipes and some grain-free and dairy-free ones, Ikaria makes it clear that people following many kinds of specialized diets can eat like these long-lived Greeks. The fascinating historical tidbits and personal stories of life on the island add to the allure of the beautiful food photographs and uncomplicated, fresh dishes.
I'm a rather picky eater; and yet I found myself enthralled with some of these recipes, in spite of the fact that I don't like goat, olives, or pine nuts (among many other things, ha!).
If you do like Mediterranean food, you should definitely check out this book.
What food(s) do YOU dislike?
P.S. Don't forget -- Bookworm Friday this week. We'll be Judging Books by Their Covers!
I originally wrote most of this review for Shelf Awareness.