I don't actually have a cast iron pan, but it's creeping up my wish list, especially after Shelf Awareness sent me this cookbook for review!
I was seriously drooling as I turned the pages. I planned to ask for a pizza stone for Mother's Day... but I might have to change my mind.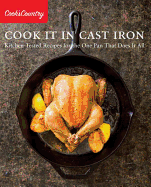 America's Test Kitchen is known for its delectable, well-tested recipes, whether one finds them via cookbook, magazine, television or podcast. In their latest cookbook, Cook It in Cast Iron: Kitchen-Tested Recipes for the One Pan That Does It All, the editors have tested dozens of recipes in the Test Kitchen, to perfect the best possible versions of dishes made in perennially versatile cast-iron skillets.
Cast iron has enjoyed a recent resurgence, as people have realized that non-stick skillets are not always the best choice, health-wise, due to the toxicity of some non-stick surfaces. Full of beautiful food, detailed recipes, precise explanations of why each recipe works, simple techniques for novices, and a helpful introduction that offers tips on seasoning (and ranks 10 different skillets currently on the market), Cook It in Cast Iron is a welcome addition to any home cookbook library.
Recipes include cast iron classics like seared steak, scrambled eggs and cornbread, as well as surprising choices like loaded nachos, apple pie and baked ziti. Each recipe is easy to follow, and many include helpful sidebars, such as how to shave parmesan, prepare bell peppers and turn a cast iron skillet into a panini press (by stacking a Dutch oven atop sandwiches in the pan).
I can't wait to try some of these recipes!!
Do YOU cook with cast iron?