Remember a few months ago when I had a lot of fun at the TFOB? One of the highlights was getting to sit on a curb away from the crowds and chat with Cara Black for about 20 minutes. Excerpts from my interview of her were recently published in Shelf Awareness, and I thought you might like to see them too!
I was lucky enough to sit down with Cara Black, author of the Aimée Leduc detective series--the latest is
Murder in Pigalle
--at the Tucson Festival of Books. Black told a story about how someone referred to her mysteries (which are set in 1990s Paris), as "historical fiction." That made me laugh, and made me wonder about how difficult it is to keep a series fresh after so many years.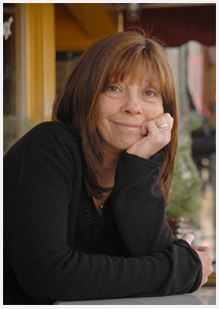 Is it hard to write books that keep series fans happy, but are still approachable for new readers?
That's a great question! I never thought I was writing a series. I was passionate to tell the story in my first book, Murder in the Marais, and then my editor said, "Where is Aimée going next? You are writing a series?" and I said yes, and went to the next place she'd be. So the first book was set in 1993, and now, 14 books later, we're still in 1998.
What I realized the challenge is, is to keep it familiar, and yet fresh. I'm excited about where the series is going now, with Aimée being pregnant, and having to deal with things she's always avoided. It's a challenge for me, and for Aimée, and she's going to have to grow up in some ways.
Is it hard to write books set slightly in the past? To remember what technology came out when?
It totally is, it's a real challenge. As I kept writing the books, I just moved the plots along a few months, and so now, instead of writing about the present, we're in 2014 talking about 1998. Did they have dial-up? Was Wired magazine out? And I always get e-mails from readers saying, "I like your book, but you know in France they pay in euros, not francs."
And often I drive down to the Stanford library, and look at microfiche, and look at the newspapers for a particular day in 1998 and see who was on strike, what was on sale, what the weather was, what world events were; it helps me go into that time. Then I try to set the books with current events, like the World Cup, which was in Paris in 1998, to help people remember.
Do you think you might ever decide to flash forward? Suddenly have Aimée and her 12-year-old kid interacting?
It's a possibility. I mean, I like paying in francs. There's something about it. And I don't have to worry about Facebook and things like that. I considered moving ahead at one point, when MySpace was big, but now who even remembers MySpace? It's tricky with technology. If I do move forward, how would I do it? I think about it, and then I think I like where Aimée is. Because otherwise you have to kind of subvert the modern technology to tell the kind of story I'm telling. There's only so many times a cellphone can be out of range, etc., and I want character-driven books, not technology driven.
Since you're not French, what inspired you to set your series in Paris?
Well, I had visited France, I read a lot of Georges Simenon, which I loved, but those are set a long time ago. I had a story I wanted to tell about a Jewish girl in hiding in Paris during World War II [in Murder in the Marais]. And then I was staying in Paris with friends, and I looked around, and no one was writing about modern-day Paris, what it was like to live there, in English anyway. I wanted to write about the people I know, where they go, not the tourist traps. So I started setting my books in different arrondissements, in the places I'd been, and seen.
My third book is set in the garment district, because I loved that area. I ended up there after missing a bus, and there were basement sweatshop workers, and then above was where Madame Pompadour had lived, and then on top there were gaming start-ups, and I wanted to reflect that juxtaposition.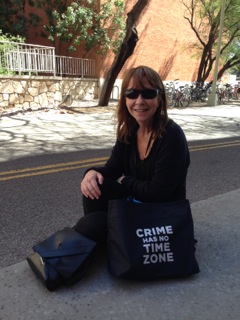 Do you have a favorite arrondissement? Do you stay in different areas when you're researching your books?
I love them all, they're all so different. I like the working-class part of the 17th; I'm going to be cat-sitting for a friend in the 10th soon. Even in the years since I set a book in the 10th, it's become so different, so bo-bo (bourgeois-bohème), with all these trendy, upscale little restaurants popping up.
I joined the historical society there, and they told me to talk to this woman who is in her 90s, and lives in the same building she was born in. I stayed all afternoon listening to her stories of how the neighborhood has changed in her life. She remembered horses pulling barges along the canal! I just love these kind of stories, and the saga of these neighborhoods, and that's what I want to put into my books.
Do you think you could ever see yourself wanting to write something besides Aimée Leduc?
There are a couple of arrondissements I haven't killed people in yet. And my editor said that I can take Aimée out of Paris now, so maybe she'll go to Versailles, or Marseilles, or even Prague on vacation, which is really exciting! That infuses me with a new interest in what she can do outside of her Paris base.
Have you read any Aimée Leduc books?