Earlier this fall I got to do an email interview with Lin Enger for Shelf Awareness. I really enjoyed The High Divide (see my full review here), and I'm excited that he'll be coming to the Tucson Festival of Books next spring, where I can hopefully meet him in person!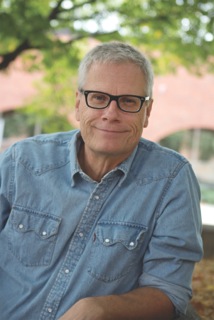 photo: Hope Larson
Lin Enger grew up in Minnesota, and teaches English at Minnesota State University. His latest novel, The High Divide, is a story of a family's journey of self-discovery, set in the American western plains in 1886. One morning Gretta Pope awakes to discover that her sons, Eli and Danny, have gone off in search of her missing husband, Ulysses. Desperate, Gretta, too, sets out: searching for her husband and boys across Minnesota, the Dakotas and Montana.
Your first novel, Undiscovered Country, was loosely based on Hamlet, and The High Divide has clear connections to The Odyssey. What made you decide to connect these classics to the American frontier?
Yes, I made conscious use of Hamlet when I wrote Undiscovered Country. In that novel I employed the basic scenario of Shakespeare's play--a murdered father and a son who must navigate his need for vengeance--but transposed the story to a contemporary setting. In The High Divide, I didn't overtly intend to recast The Odyssey in the 19th-century American West. Nonetheless, I did choose Ulysses as the name for one of my protagonists, a veteran of the Indian Wars, and (as in The Odyssey) it is this man's inability to leave the battles behind and make a full return home to his family that drives the story forward.
As I wrote, I was unaware that my novel had so many parallels to Homer's epic. But when I'd finished it and several early readers pointed this out to me, I was pleased. After all, The Odyssey is archetypal, time-tested, full of truths about what it means for a man to leave a war behind and try to go home again. That particular journey--whether it happened thousands of years ago or is happening now--will necessarily be full of peril, the warrior fighting with himself and with the gods, his family meanwhile struggling to understand an experience quite beyond them yet doing whatever they must in order to bring him home. I should say, too, that writers are constantly reworking the old stories; it can't be helped. And the greatest storytellers--Shakespeare and Homer among them--are probably the ones whose material is the most universal. Tales like The Odyssey are in our DNA.
Ulysses's story is tied to the story of the American West, to the decimation of the buffalo herds and the destruction of the Native way of life. The true story of William Temple Hornaday (curator of the Smithsonian, who headed out on a buffalo trek) also connects to Ulysses's journey. Is Ulysses himself based on a real historical figure?
Ulysses is not based on any historical figure I am aware of, though as your question suggests, several of the novel's other characters are inspired by real people--William Hornaday and Magpie of the Southern Cheyennes among them. Through Ulysses, I wanted to explore what it would be like to have experienced the Indian Wars and to have committed acts for which one can't forgive oneself. Of course, in that respect there were many men in Ulysses's position; I have no idea whether any of them were compelled to fight their demons in the particular way Ulysses does in The High Divide.
You live in Minnesota, where the Popes' story begins. Does your own history (or that of your family) influence your writing?
My great-grandfather homesteaded in Dakota Territory in 1883. In the spring of 1884, according to family legend, he shot one of the last wild buffalo in that part of the country--thus, my lifelong fascination with the buffalo. Also, because all four of my grandparents lived close to the land in North Dakota, the days of the pioneering west have never seemed distant to me. That's not to say I didn't have a lot of research to do before writing this novel!
Another hallmark of the pioneer era: the train frequently shows up in The High Divide. Ulysses, then Danny and Eli, then Gretta all follow the tracks. Did you do any train-traveling while researching The High Divide?
You're right--there is a lot of train travel in this book! That was how people made long journeys in America in the 1880s. The rails were also instrumental in allowing the terrible slaughter of the buffalo herds and in partitioning and making accessible the vast western lands through which the Native tribes of the plains had freely moved for centuries. I didn't do any train travel as I prepared to write the book (though I do love trains and have used them happily both here in the U.S. and in Europe), but I did make research trips into the Dakotas and Montana. Also, I developed a deep love for the west, Montana in particular, when I was 21 years old and rode my bicycle from Seattle, Wash., back to Minnesota. (There are few better ways to experience a country slowly and up close.)
The story of the Pope family seems concluded. Any plans to revisit these characters? Or any sneak peeks at future writing plans?
I agree that Ulysses, Gretta, Eli and Danny have come through to the other side of their troubles at novel's end. I absolutely loved writing about them, however, and wouldn't be surprised if I take up their lives again some day, but not now. I'm at work on a very different sort of novel, and excited about it. I'm always afraid, though, that I'll jinx my writing ideas if I talk about them--so all I'm willing to say is that the new story is set in the volatile, transitional decade of the 1970s
And now a question for my Quirky Bookworm readers: are YOU a fan of pioneer era fiction?
If so, I think you'll like The High Divide!
Noel isn't much of a reader, but since he likes Cormac McCarthy I got him to try this one, and he ended up really enjoying it.
(I was compensated by Shelf Awareness for the interview, but all opinions and questions were my own!)