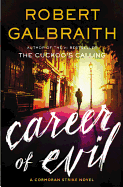 Robert Galbraith has written another excellent hardboiled mystery. Violent and brilliant, Career of Evil continues the story of private detective Cormoran Strike--the one-legged, illegitimate son of a famous rock star, forced to leave active service after being blown up in Afghanistan. His secretary turned partner, Robin Ellacott, is understandably appalled when she receives a parcel from a courier, and it turns out to contain a woman's severed leg.
Cormoran and Robin begin staking out the men whom Cormoran believes could be responsible for sending the leg. ("You know four men who'd send you a severed leg? Four?" Robin queries in horror.) Hampered by a lack of support from the police, by the difficulty of tracking down the suspects' whereabouts across England, and by complications in Robin's personal life (her jealous fiancé hates that she works for Cormoran), the two are in a deadly race to uncover the truth as the killer continues his gory work, mutilating and killing more women.
Writing under the Galbraith nom de plume, J.K. Rowling's genius shines through, and fans of dark mysteries are sure to enjoy Career of Evil. An excellent blend of creepy details and relationship struggles, with Cormoran's bizarre childhood and Robin's own past coming into play, Career of Evil is a great mystery with two vastly different but equally likable protagonists. Galbraith does a superb job of making multiple men seem like possible suspects, keeping the reader guessing until the very last pages.
This is a really, really good mystery. I was seriously SO surprised by part of the ending, and that rarely happens to me, since I read so many mysteries. If you haven't read The Cuckoo's Calling or The Silkworm though, I'd recommend going back and catching up first. Career of Evil reveals quite a bit about Robin and Cormoran's personal lives, and the revelations are even more awesome if you're familiar with the backstory from the first two books.
I originally wrote most of this review for Shelf Awareness.