True confession time... I'm stuck in a rut. A rut named "Anna Karenina is taking too long to read and I'm losing patience with Levin's crop/farming strategies and I just kind of want to throttle Anna K herself, but if I read anything else I'll feel guilty, so instead I'll just go watch tv."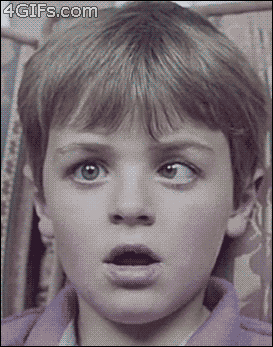 This is how Anna K is making me feel.
Whew. I was trying to "eat the frog" by doing Anna Karenina first, but now I'm thinking maybe I should've scheduled it later in the year, so that I'd be well into a Classics Challenge groove by the time I got to it.
And thus, alas, there has been little reading in these parts this month. I only managed to finish five books, and two of those five were audio books! Which is just sad, compared to my 2012 average of 12-13 books a month.
The Finished...
The Afrika Reich by Guy Saville. To review for Shelf Awareness. As I mentioned in my last reading round-up; it's a highly imaginative take on an alternate history 1952 -- a 1952 where the Nazis won WWII and now control much of the globe. It's also a very violent take on that world though - kind of like what I'd imagine a novelization of 'The Expendables' would be like. Creative, but not for the faint of heart.
The Distant Hours by Kate Morton. I didn't like this one quite as well as The Secret Keeper, but I still can't get it out of my head. Morton knows how to create a hauntingly good story; and oh her writing. I want to call it lyrical, but I think I over-use that word. Poetic? Graceful? Absolutely gorgeous?
The Woman Who Wouldn't Die by Colin Cotterill. Also for Shelf Awareness. So much fun! A mystery set in 1978 Laos, starring an aged, semi-retired coroner, and his irrepressible wife. I absolutely adored Siri and Daeng's relationship - so refreshing to read about the happy (and still passionate) marriage of elderly people. And I was fascinated to learn more about Lao culture.
The Cruelest Month by Louise Penny. Book 3 in the Chief Inspector Gamache series. I enjoyed this one more than book 2; and I laughed out loud several times. Although I'm starting to think that the villagers of Three Pines ought to be concerned. That's 3 murders in less than a year -- in a population of what, 200? Bet they have the highest crime rate in Quebec!
A Brief History of Montmaray by Michelle Cooper. The first book in the FitzOsborne Chronicles, this is the beginning of a YA historical fiction series set in WWII. I requested it from the library thanks to commenter Slackerjo's glowing recommendation, and it was a lot of fun. I want to read the rest of them, but it was kind of a pain - since our library system didn't have it, and they had to do an interlibrary loan from Glendale. I feel a little guilty hassling the librarians so much...
The Unfinished...
Anna Karenina by Leo Tolstoy. Meh. Tolstoy needed some serious editing... silly 19th century authors and their inability to summarize. It does have its beautiful moments though, so I'm persevering. I'm about halfway through.
Not Your Mother's Make-Ahead and Freeze Cookbook by Jessica G Fisher. I've been reading this one and Crock On!, an awesome slow-cooker cookbook, for recipe inspiration. (Yes, I do actually read cookbooks cover to cover! Don't you?) I felt like I got in a cooking rut over the holidays - only making the same few easy meals in between all the entertaining and whatnot, so I've started out January by making some new things.
11/22/63 by Stephen King. Still plugging away at the audio version. But it's gonna take me a while since it's of rather epic length. So fascinating though! And it makes me so very, very glad I live in the modern era of smoking bans.
What did YOU read in January?
What are you cooking?
This post contains affiliate links.