I was lucky enough to get to interview Rosie Thomas for Shelf Awareness a few months ago. She has done some totally crazy stuff in real life, and she writes some awesome books, so I thought you'd enjoy the interview.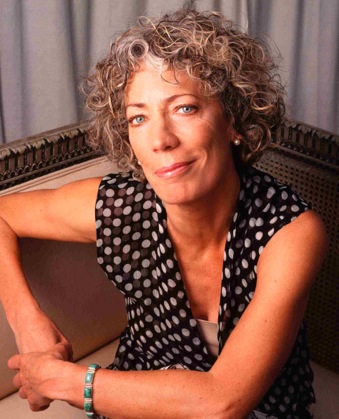 Rosie Thomas is the author of 20 romantic novels, including The Kashmir Shawl. Her books are set in locations across Europe, Asia and as far as Antarctica, reflecting many of Thomas's real-life adventures (which include competing in the Peking-to-Paris classic car rally and hiking in the Himalayas). Her most recent book, The Illusionists, tells the story of Devil Wix, an extraordinary illusionist who is determined (with the help of a talented dwarf, an enterprising young woman and a secretive old friend) to be a success in the Victorian theater world.
The Illusionists, unlike many of your other novels, is set in London, and the Victorian era theater world is striking. What made you choose an unusual subculture, rather than an exotic locale, for this book?
It chose me, in fact. It all began with a tiny bit of reading I did about stage magic to flesh out one of the characters in The Kashmir Shawl. I remember sitting in the London Library one day (itself a rather magically Victorian place) making notes about the inventions and devices of Robert-Houdin, the French illusionist who is thought of as the father of modern stage magicians (Houdini took his name from him). Suddenly I got that shiver up the spine that says idea. I knew at once that there was a complete novel waiting to be set in a music hall theater with a demonic anti-hero hero at the heart of it. There was absolutely no question from that moment: my next book was going to explore the art of illusion, and the best time to pick seemed to be the point when electricity and electromagnetism, among other new sciences, were ready to be harnessed to dramatic effect. Which meant the 1870s--which seemed as exotic as any of the other settings I have created.
Were you inspired by any real historical performers in creating the characters for The Illusionists?
Very much so. I read volumes of material about the real-life acrobats and tenors, performing dwarves and creators of fantastic automata who performed in the music halls of the day. Most usefully of all I discovered the Maskelynes, three generations of real-life magicians and inventors who operated from their own theater of illusions, the Egyptian Hall in London's Strand. The grandson of the dynasty, Jasper Maskelyne, famously became the leader of Churchill's company of war magicians, whose task was to deploy camouflage and other concealment techniques (drawing directly on conjuring skills) during World War II.
The Palmyra theater in my book is based partly on the Egyptian Hall (now gone) and partly on the wonderful old Wilton's Music Hall in London's East End, which is still in use.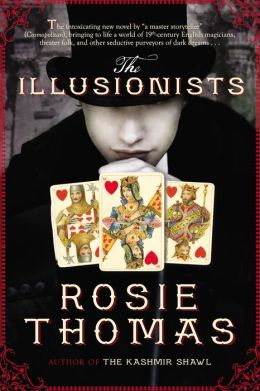 Your characters are involved in a complicated romantic situation. Eliza, the only major female character, has tricky waters to navigate, with many of her colleagues in love with, even obsessed with, her. Were you attempting to showcase different types of love? Or just enjoying making Eliza's life difficult?
I was just having fun and telling a story and letting my imagination run free, really. Nothing more structured than that--to begin with, anyway. I wanted to make the world of the Palmyra seem both exotic and claustrophobic, and so to have all the threads of passion tangled within it seemed natural. I also wanted to make Eliza stand out as a vivid and fascinating creature with whom any man would fall in love... and so to be a female who could not only match up to Devil Wix but also make her own way in a world where most women were still wholly dependent on matrimony.
In real life you've navigated tricky waters, too. Is it possible to narrow down your favorite adventure so far?
Oh, definitely! I went on an expedition to South Georgia a couple of years back. Sir Ernest Shackleton, the Antarctic explorer, has always been one of my heroes, and when I was offered the opportunity to retrace the route he and two companions took across the island to bring help to their stranded companions, I grabbed it with two hands. In 1916 the island was unmapped and uninhabited except for a couple of whaling stations. Shackleton stormed nonstop across high mountains, glaciers, crevasses, and made it to the whaling station in 36 hours, even though he and the others were starving and exhausted after 18 days in an open boat. As a result, he brought his entire crew of 29 men safely home.
We had maps, GPS, tents, skis, sledges, down clothing and all the food we could eat. It took us five days, and it still wasn't any picnic! Interested readers might enjoy reading more on southbyeight--start from the bottom up!
What's on the horizon? More adventures? More historical fiction?
More adventures, I hope! Although I'm getting on a bit now, so it isn't going to be K2. And I am halfway through the sequel to The Illusionists, which takes us (I think) up to 1944. After that, who knows?
I really liked The Illusionists, and I'll definitely be keeping an eye out for the sequel! Check out my full review of The Illusionists here. I also am impressed by all the adventures Rosie has been on! I can't imagine trekking across the Antarctic.
What's the craziest adventure YOU have ever taken?
Just so you know, I was compensated for this interview by Shelf Awareness. And pssst, did you take my survey yet?